The SGMRO hosts an annual SGM Health Research Listening Session to gather comments, concerns, and suggestions about SGM-related health research and related activities at the NIH from community stakeholders, in particular, representatives from SGM-focused health and health advocacy organizations.
The next SGM Health Research Listening Session will take place on November 19, 2020, from 1:00 p.m. to 2:30 p.m. ET. While only invited SGM health research and health advocacy organizations, as well as NIH leaders, will be permitted to offer comments and feedback, this session will be free and open to the public. In order to listen to this session, all interested individuals will be required to register.
A session agenda and a list of invited organizations/participants are forthcoming!

Past Listening Sessions:
On October 22, 2019, the SGMRO launched and hosted the agency's first-ever SGM Health Research Listening Session. The insight and feedback provided by community stakeholders helped inform the development of the NIH FY 2021–2025 Strategic Plan to Advance Research on the Health and Well-being of Sexual and Gender Minorities.
Click here to see the summary document, which highlights the session's discussion, as well as topic areas for further research derived from the session. Please note, the summary document does not represent the official positions of the NIH or any other government agency.
In addition, audio from this session is publicly available, as well as a full transcript.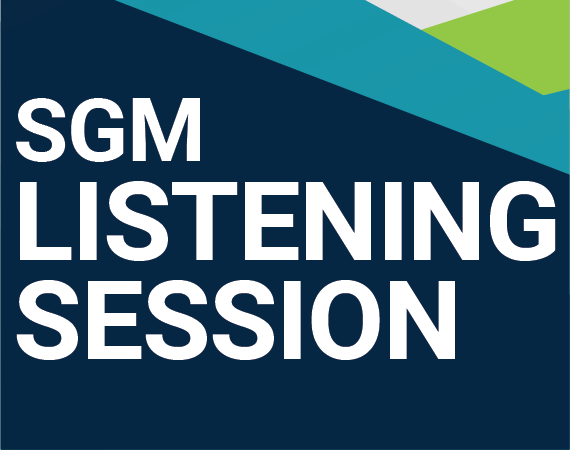 Audio (mp3)
Transcript
Summary Document

2019 SGM Health Research and Health Advocacy Participants
Advocates for Youth: Khadija Khan
Center for American Progress: Laura Durso, Ph.D.
Fenway Health: Sean Cahill, Ph.D.
GLSEN: Nhan Truong, Ph.D.
Human Rights Campaign: Tari Hanneman, M.P.A.
InterACT: Arlene Baratz, M.D.
National Center for Lesbian Rights: Julianna S. Gonen, Ph.D., J.D.
SAGE: Porsha Hall
Southern AIDS Coalition: Marissa Miller
Trevor Project: Sam Brinton, M.S.
UCSF Center for Transgender Excellence: Maddie Deutsch, M.D.
Whitman-Walker Health: Sandy James, J.D., Ph.D.
This page last reviewed on October 15, 2020