Director's Corner
About the Director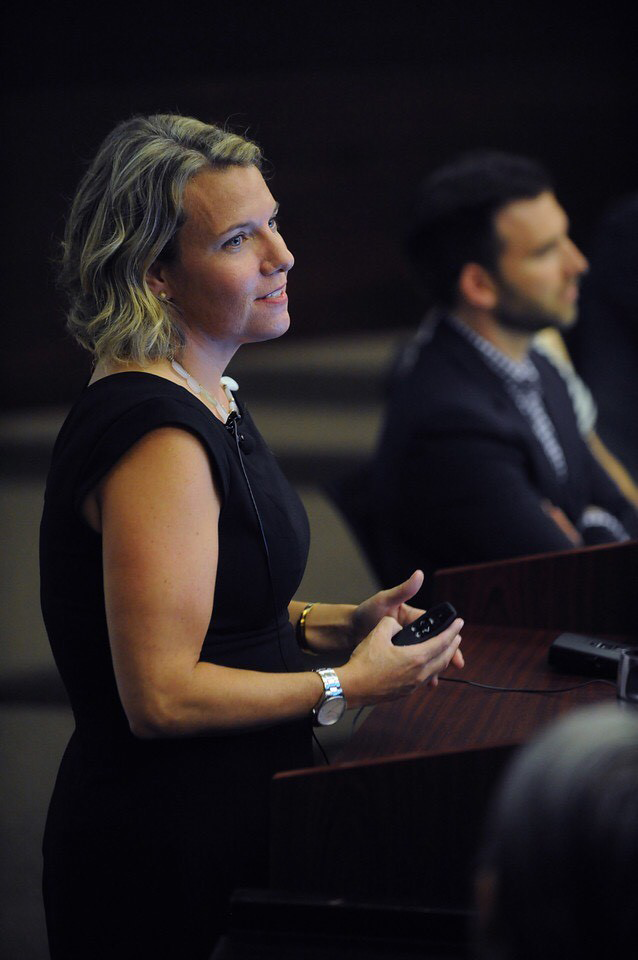 Karen L. Parker currently serves as Director of the Sexual & Gender Minority Research Office (SGMRO) at the National Institutes of Health (NIH). Dr. Parker was instrumental in the formation of the office in the fall of 2015 and was appointed Director in June 2016. In her role as Director, Dr. Parker is co-chair of the trans-NIH Sexual and Gender Minority Research Coordinating Committee (RCC), a committee on which she has served since its inception in 2011, and co-chair of the NIH SGM Research Working Group of the Council of Councils. Dr. Parker is also a member of the NIH Anti-Harassment Steering Committee and serves as the co-chair of the NIH Office of the Director Anti-Harassment Champions Working Group. Additionally, she sits as an ad-hoc member on the Advisory Committee to the NIH Director Working Group on Diversity.
Dr. Parker is involved in several SGM-related initiatives beyond NIH. She serves as co-chair of the Measuring Sexual Orientation and Gender Identity (SOGI) Research Group, an entity of the Federal Committee on Statistical Methodology, as well as co-chair for the Department of Health and Human Services LGBT Coordinating Committee.
Previously, Dr. Parker worked at the National Cancer Institute for 14 years, where she served as Acting Branch Chief in the NCI Office of Science Planning and Assessment and as Special Assistant to the President's Cancer Panel. She began her career at NIH in 2001 as a Presidential Management Fellow. Dr. Parker received her Bachelor of Arts in English from Indiana University and her Master of Social Work from the University of Michigan, where she studied community organization, social policy, and evaluation. She subsequently completed her Ph.D. at the University of Maryland, School of Social Work.
Director's Voice Blog
April 18, 2021: Joint Blog Post with the Office of AIDS Research in Honor of National Transgender HIV Testing Day:
Each year on April 18th, we observe National Transgender HIV Testing Day (NTHTD). NTHTD is an annual event that highlights the importance of routine HIV testing and status awareness as part of our continued focus on HIV prevention and patient-centered care for transgender and gender non-binary individuals.
An estimated 1 million adults in the United States are transgender1. Transgender individuals, particularly transgender women, are at a high risk for HIV infection and disproportionately affected by HIV2. Among transgender women, recent data show that HIV is more common among Black/African American and Hispanic/Latina persons3. In 2018, adult and adolescent transgender individuals made up 2 percent of new HIV diagnoses in the United States and dependent areas, with most of the new HIV diagnoses among individuals ages 25–344. As recommended by the Centers for Disease Control and Prevention (CDC), individuals at increased risk of HIV infection should be tested for HIV at least annually5.
Transgender individuals with HIV may face a broad range of challenges that affect their health outcomes, including socioeconomic factors, stigma, discrimination, social rejection and exclusion, unique barriers to seeking HIV testing, limited transgender-specific data and research, and health care providers who lack knowledge of transgender issues.
To learn more about these challenges and discuss solutions, I invited my colleague Dr. Karen L. Parker to have a conversation. Dr. Parker is an expert in sexual and gender minority (SGM)-related research and Director of the National Institutes of Health (NIH) Sexual and Gender Minority Research Office (SGMRO). Like OAR, SGMRO is a part of the Division of Program Coordination, Planning, and Strategic Initiatives, in the NIH Office of the Director. We covered some critical issues in this discussion:
Dr. Goodenow: What unique or critical concerns do transgender individuals face regarding HIV and AIDS?
Dr. Parker: Transgender individuals encounter unique barriers in accessing health care, which have significant implications for HIV/AIDS prevention, screening, and treatment within this population. Several documented concerns include experiences of trauma, discrimination, and minority stress. These experiences often lead to mistrust, fear, and avoidance of health care systems and providers. Additionally, there are socioeconomic concerns to consider. These populations encounter higher rates of poverty and unemployment, limiting their access to health insurance and/or the ability to pay for care. Transgender individuals are also more likely to engage in risky health behaviors such as substance use (including intravenous/injectable drugs) and unprotected sex, both of which are significant risk factors for HIV transmission.
Dr. Goodenow: What obstacles do transgender individuals face that stand specifically in the way of getting tested for HIV, and how can we address these obstacles through health research?
Dr. Parker: Interventions to mitigate and treat HIV/AIDS for transgender people should take into consideration the barriers to care that I mentioned above. There is also a need for training culturally competent providers to ensure welcoming and affirming clinical environments for transgender patients, which is vital for building trust within the community. A welcoming and affirming clinic will make it more likely that these patients are getting screened routinely and treated adequately to help reduce rates of HIV transmission. Additionally, HIV/AIDS prevention and treatment education, and related dissemination efforts, should be inclusive and representative of transgender people. These interventions should also be informed by health research involving these communities.
Dr. Goodenow: Can you tell us about the variety of NIH programs that are underway to advance our understanding of health disparities that put transgender individuals at a greater risk for HIV/AIDS and other health conditions? I know, for example, that SGMRO conducts Sexual & Gender Minority Health Research Regional Workshops, Listening Sessions, and the SGM Administrative Supplements Program.
Dr. Parker: Those are all great examples of the types of work SGMRO undertakes to help enhance our understanding of the health disparities encountered by transgender individuals and other SGM populations. The SGM Administrative Supplements Program, for example, provides additional funds to current NIH-funded grants to include SGM populations or SGM health-related research questions. Several supplements have been awarded to investigators with HIV/AIDS-related projects to include SGM populations, including transgender people. Additionally, SGMRO co-sponsored the recently released National Academies (NASEM) consensus study report on Understanding the Well Being of LGBTQI+ Populations(link is external). This report, conducted by an expert panel, is an extensive review of the available data and identifies future research needs and recommendations to advance health outcomes for SGMs.
Dr. Goodenow: Are there any other steps that NIH can take to facilitate HIV testing and reduce risk to improve health outcomes for transgender individuals?
Dr. Parker: As we know, research and science inform clinical practice, which leads to better health outcomes. To reduce HIV transmission and improve health outcomes for transgender people, we need to do more work in ensuring health research is inclusive of gender-diverse populations. Currently, research is limited due to inconsistency or lack of sexual orientation and gender identity (SOGI) in data collection, and there are no current guidelines in place to standardize measures. For that reason, SGMRO is proud to announce the launch of another NASEM consensus study to provide recommendations and guidelines for collecting SOGI measures across various domains, including administrative, clinical, and research use. We hope the upcoming consensus study report will better inform policy and programmatic efforts to improve data collection and yield better health outcomes for all SGM communities. This report will also be vital in shaping the next wave of scientific inquiry within this field.
Dr. Goodenow: Thank you, Karen. This discussion has been very productive and will inform OAR's commitment to advance research to end the HIV pandemic and improve HIV/AIDS health outcomes for all people.
The OAR encourages stakeholders to get involved with efforts to reduce HIV stigma and promote testing and treatment for transgender individuals. To get involved and find tools to use, visit the CDC's National Transgender HIV Testing Day webpage and Let's Stop HIV Together Campaign resources for transgender individuals.
(See the original blog post for a full list of cited references)
September 21, 2020: SGM Research Symposium & Release of the NIH FY 2021—2025 SGM Research Strategic Plan:
This month marks the five year anniversary of the NIH Sexual & Gender Minority Research Office (SGMRO). Words cannot begin to express how proud I am to serve as Director and to be witness to all that the Office and NIH have achieved together.
The SGMRO, and NIH as a whole, has made significant and meaningful progress in developing initiatives and expanding research activities to benefit SGM populations. As I look back on the previous five years, I am incredibly pleased by the many accomplishments that we have made. Below are highlights of our progress to date.
From 2015 to 2019, we saw a 37.2% increase in the number of SGM-related projects funded

To date, the SGMRO administrative supplement program has funded

nearly $6.2 million to 64 investigators that span a broad range of key topics in SGM health.

In 2016, NIMHD officially designated sexual and gender minorities as a health disparity population for NIH research.
Sex Assigned at Birth, Sexual Orientation, and Gender Identity measures have been added to the PhenX Toolkit; the All of Us Research Program also routinely collects these data.
In 2018, the SGMRO established the SGM Research Investigator Awards Program, to recognize early-stage and distinguished investigators for outstanding contributions to the field of SGM health research.
This past week we held our first ever SGM Research Symposium. This event was indeed a testament to all that the agency has accomplished. This day-long celebration of the Office's five years featured lectures from SGM Administrative Supplement grantees, a presentation about work being conducted in the NIH Intramural Research Program, and career highlights from the 2020 recipients of the NIH SGM Research Investigator Awards.
At the symposium, I was thrilled to announce the release of the NIH FY 2021–2025 Strategic Plan to Advance Research on the Health and Well-being of Sexual and Gender Minorities. This plan will provide a roadmap for the SGMRO and all NIH Institutes, Centers, and Offices, as we look to expand our work in SGM-related activities.
I am so excited to begin work on implementing this strategic plan and cannot wait to see how we continue to grow as an agency in support of SGM-related initiatives and research activities. My sincere thanks to all the individuals, both within the agency and beyond, who continue to support the work of the SGMRO. In particular, I would like to thank the NIH Sexual and Gender Minority Research Coordinating Committee and the tremendously talented and committed team in the SGMRO, without whom, none of our progress would have been possible.
Here's to another incredible 5 years!
June 30, 2020: Wrapping up Pride Month & Announcing the Release of the Annual Report and Portfolio Analysis
As Pride Month comes to a close, I'm excited to share with you some of the hard work we have accomplished here at the Sexual & Gender Minority Research Office. Despite the COVID-19 pandemic and disruptions to our normal work arrangements, the SGMRO team has been continuing to work relentlessly to support SGM-related research activities across the agency.
Foremost, I am pleased to announce the release of both the FY 2019 SGMRO Annual Report and the FY 2018 Sexual & Gender Minority Research Portfolio Analysis. The Annual Report presents a representative sample of research-related activities and initiatives from across the NIH for FY 2019 and illustrates the breadth of the SGM-relevant work being conducted across the ICOs. The Portfolio Analysis describes SGM-related research that was funded by the NIH within FY 2018.
This year, the Portfolio Analysis features new analyses based on the curation of the FY 2018 Sexual & Gender Minority (SGM) dataset. It includes population variables, race and ethnicity, age, research methods, type of study, and other research variables. We anticipate that these new variables will lead to fresh insights and further analyses that will help identify trends in current funding, as well as areas of opportunity in future SGM health research funded by the NIH.
This month we also successfully launched the SGMRO Scientific Webinar Series, which seeks to promote research being conducted by NIH-funded investigators in the field of SGM health. The goals of this series are to highlight current and groundbreaking SGM health research and to provide a forum that allows students, postdocs, early-stage investigators, and others to envision a research trajectory in SGM health research. Our inaugural speaker was Brian Mustanski, PhD, Director of the Northwestern Institute for Sexual and Gender Minority Health and Wellbeing and Member of the NIH SGM Research Working Group, who spoke about "Creating Health Equity for Young SGM People." A recording and transcript of the webinar will be made available on the SGMRO website in the coming weeks.
Finally, I am very excited to share some news regarding a few projects that are still in the works. On September 17, our Office will be hosting the SGMRO Research Symposium & Investigator Awards Program. This symposium will not only commemorate the Office's 5-year anniversary but will also feature lectures from NIH-funded investigators and awardees on a variety of different topics relating to SGM health.
During this symposium, we will be unveiling the NIH FY 2021 – 2025 Strategic Plan to Advance Research on the Health and Well-being of Sexual & Gender Minorities. This Strategic Plan will build upon the foundation of the previous NIH SGM Research Strategic Plan, presenting scientific themes and operational goals and objectives that aim to enhance the agency's SGM-related research and data collection efforts, while also supporting a diverse scientific workforce devoted to improving our understanding of the health of SGM communities. The Office has been working on the development of this plan for over a year, using input provided from across the agency and beyond. I believe our efforts have culminated in a plan that will truly enhance and expand SGM-related research activities and initiatives at the agency.
As you can see, it's been full speed ahead here at the SGMRO! Our office remains committed to fostering the field of SGM health research and ensuring the representation and inclusion of SGM populations in research and other initiatives at the NIH. I cannot wait to see how the next couple of years unfold! Happy Pride Month everyone!
June 5, 2020: Pride Message from the SGMRO Team - SGMRO Stands in Solidarity with the Black Community
It was June of 1969, when the first brick was thrown at the Stonewall Riots by a transgender woman of color, Marsha P. Johnson, in response to police brutality and social injustice. She, along with other queer women of color, led a riot which subsequently grew into a widespread movement seeking to advance the rights and liberties of sexual and gender minorities (SGMs). To reflect on the progress made since the Stonewall Riots, SGM communities continue to celebrate Pride in the month of June.
However, this year, as we enter Pride Month, we do so with heavy hearts. Normally a cause for celebration in SGM communities, this year it is marred by our common anguish and outrage towards the senseless and fatal acts of violence perpetrated against Black individuals in this country. Tensions are reverberating across the nation as we grieve the recent losses of George Floyd, Breonna Taylor, Ahmaud Arbery, and other Black lives.
It is important that we say their names. It is important that we recognize these horrible acts of violence were rooted in prejudice and bias. It is important that we amplify the voices of the Black community, which are too often unheard. It is important that we speak and act out against hate, violence, and racism.
Here at the Sexual & Gender Minority Research Office, we are all too familiar with the injustice, violence, and disparities that SGM communities, especially those of color, have faced and continue to face today. We stand in solidarity with the Black community and renew our commitment to combatting social injustice at every turn. We will continue to advocate for the equitable treatment, inclusion, and representation of oppressed and marginalized populations.
January 6, 2020: New Year's Reflections & the Importance of Pronouns
Going into a new year, it's important to reflect on the past year to celebrate our successes and contemplate new directions for the future. I am proud to say that 2019 was a pivotal and successful year for the SGMRO. Our staff expanded with the addition of three new staff members, allowing us to greatly augment our capacity. We celebrated and recognized scholars in the field of SGM health, hosted the agency's first-ever scientific workshop on bisexual health, collaborated to successfully publish an RFA on SGM Measurement, and expanded our presence across the agency through staff participation in numerous working groups and steering committees.
However, while we've made significant progress in advocating for SGM health research across the NIH, we still have much work left to do, especially in advocating for equitable and inclusive treatment of SGM colleagues within the agency and beyond. As some of you may remember, results of the NIH Workplace Climate and Harassment Survey indicated that gender minorities (e.g., transgender, genderqueer, and gender nonconforming individuals) report alarming rates of harassment here at the NIH. In my capacity as the co-chair of the OD Anti-Harassment Champions Workgroup, I am a part of an effort seeking to reduce these disparities and eliminate incivility in our workplace altogether.
In that spirit, as we embark on a new year, I am writing today to emphasize the importance of pronouns. Pronouns are not just words; they are a way to convey one's gender identity. Individuals whose gender identify deviates from binary constructs or expectations of gender may use pronouns other than "he/him" or "she/her." These include "they," "them," "theirs," and others.
Refusing to use pronouns is a form of harassment, which can create a hostile environment. Learning someone's pronouns is as simple as learning someone's name. The experience of being misgendered can be hurtful as it is tantamount to invalidating who a person is at their core. Acknowledging and accurately using a person's pronouns goes beyond basic courtesy. It creates mutual respect between individuals and an environment that is both gender-affirming and tolerant.
One way that we can help to promote appropriate use of pronouns is to be open about our own pronouns. This may include announcing pronouns at the beginning of meetings, adding pronouns to your email signature, and introducing yourself with your pronouns.
Everyone deserves to work in an environment that is both respectful and affirming of their gender identity. It is my hope that by taking small steps like including pronouns in everyday communications, we can begin to take larger strides in making the NIH a more inclusive agency in 2020 and beyond. We can do better. We must do better.
December 11, 2019: Bisexual Health Research Workshop
Despite the fact that bisexual people (bi/bi+) make up over half of the LGB population in the United States and are considered the largest of the sexual and gender minority (SGM) subgroups, they are woefully and disproportionately underrepresented in SGM health research. Moreover, given that definitions of bisexuality vary considerably across research studies and data on sexual orientation groups are often pooled, distinct health risk profiles and unique health challenges that bisexual individuals face may be distorted. This is alarming, considering a growing body of research also suggests that bisexual individuals face an increased relative risk for adverse mental and physical health outcomes in comparison to other LG and heterosexual counterparts.
In order to advance understanding of bisexual health disparities, the NIH Sexual & Gender Minority Research Office (SGMRO) hosted its first ever scientific workshop on bisexual health research in September 2019. Our office convened a group of researchers with expertise in bisexual health, measurement, and other disciplines to discuss the most recent scientific findings on bi/bi+ health across the life course and to identify crucial knowledge gaps and research opportunities.
I am pleased to say that this day-long workshop culminated in robust discussion and intensive brainstorming sessions that led to identification of research priorities and gaps in bisexual health across four key areas: life course perspective, intersecting populations, key health inequities in bi/bi+ populations, and social determinants of bisexual health. For those of you interested, an archived videocast of the workshop is available for public viewing.
Our office has released a summary document that reflects the content of the discussion among participants at the workshop, as well as topics for further research across each key area. While this document does not represent an official position of the NIH or any other government agency, it is my hope that the opportunities identified will help guide the field of bisexual health research and raise the overall visibility and representation of bisexual people in health research in the years to come.
Click here to see the full Bisexual Health Workshop Summary Document.

October 8, 2019: NIH SGM Research Investigator Awards Program
NIH is proud to recognize two early-stage investigators and one distinguished investigator for their substantial and outstanding research contributions in areas related to SGM health. On September 17, the Sexual & Gender Minority Research Office (SMGRO) hosted the second annual Sexual & Gender Minority (SGM) Research Investigator Awards Program. Drs. Katie Biello and Lindsay Taliaferro received the Early-Stage Investigator Award, and Dr. Karen Fredriksen Goldsen received the Distinguished Investigator Award. For those of your who were unable to attend the event, I encourage you to see the archived videocast of the event to learn more about the important research conducted by our awardees.
The NIH SGM Investigator Awards Program was developed to strengthen the community of researchers and scholars who conduct research relevant to SGM health and well-being, which addresses one of the goal areas of the NIH SGM Strategic Plan for FY 2016 – FY 2020. It is our hope that this awards program not only provides much needed visibility and recognition to researchers in this community, but also propagates SGM health research by attracting and retaining new investigators to this field of study.
We know SGM populations face significant and unique health disparities, and we know that more research needs to be conducted in order to better assess, understand, and address those disparities. To do that, we need to develop and expand the research workforce dedicated to SGM health research, and to ensure that there are resources and support in place for these researchers.
SGMRO remains dedicated to fortifying the community of SGM health researchers and scholars. In addition to the investigator awards program, the office has conducted numerous regional workshops around the country to build networks of SGM researchers, students, fellows, administrators, and the community with the NIH and the SGMRO. Moving forward, as we work on developing the NIH SGM Strategic Plan for FY 2021 – FY 2025, we hope to explore new ways to best support a growing SGM health research workforce.
We plan to release the call for nominations for next year's SGM Research Investigator Awards Program sometime in early 2020, so stay tuned! Be sure to subscribe to the SGM listserv to receive any relevant announcements.
June 19, 2019: NIH Workplace Climate and Harassment Survey Interim Report
On June 12, NIH released the interim results of the NIH Workplace Climate and Harassment Survey, which was administered earlier this year to NIH employees, contractors, fellows, and trainees. This preliminary analysis of the survey yielded some concerning results, especially when examining data on sexual and gender minorities.
According to the analysis, over the previous 12 months 28.6 percent of gay and lesbian respondents and 41.2 percent of bisexual respondents indicated having experienced some form sexual harassment, which was notably higher than the 20.2% reported among heterosexual respondents. Of the individuals who identified as either transgender, genderqueer, questioning, or other, an alarming 44.8% indicated having experienced some form of sexual harassment, which was substantially higher when compared to cis-gender respondents.
These findings echo research findings that sexual and gender minority populations are more vulnerable to experiencing prejudice, discrimination, and sexual harassment. It also highlights the work that remains at NIH in ensuring that all employees, regardless of sexual orientation and gender identity, experience a work environment free of harassment. This interim report provides a preliminary analysis, and the data need to be further analyzed to better understand the factors that contribute to harassment at the NIH and to refine policies and take additional steps based on these secondary analyses.
Moving forward, the Sexual & Gender Minority Research Office will work alongside NIH leadership in advocating for our sexual and gender minority colleagues, as well us discussing future directions to help eliminate sexual harassment across not only these communities, but the entire agency.

June 3, 2019: Celebrating Pride Month at NIH
June marks the beginning of Pride Month, which not only commemorates the Stonewall Riots of 1969, but also celebrates sexual and gender diversity across the nation. It is a time to reflect on and recognize the immense hardships and obstacles sexual and gender minority (SGM) communities have overcome, and those that they continue to face today. While we celebrate the progress made thus far, we understand that much work still needs to be done, especially when it comes to achieving optimal health outcomes within SGM communities.
The Sexual & Gender Minority Research Office (SGMRO) at the National Institutes of Health (NIH) recognizes the significant health disparities that continue to exist within SGM populations and remains committed to ensuring that these populations are included and represented in research across the NIH. In honor of Pride Month, I am proud to announce that the SGMRO will be releasing its FY 2018 Annual Report and FY 2017 Portfolio Analysis in the coming weeks, which will highlight progress made at the NIH in coordinating and promoting SGM health research and related activities.
I am also proud to say that the SGMRO is leading implementation of recommendations made by the NIH Sexual & Gender Minority Research Working Group of the Council of Councils, following a mid-course progress review for the FY 2016-FY 2020 Strategic Plan to Advance Health Research on the Health and Well-being of Sexual and Gender Minorities. In order to meet one of these recommendations, the SGMRO recently brought onboard three new staff members to assist with strategic planning, programmatic management, and communications. These individuals bring with them an array of experiences which will indubitably help the SGMRO in addressing the rest of the Working Group's recommendations, allowing the NIH to continue to expand efforts across the agency.
Here at the SGMRO, and the NIH, we remain deeply committed to the principles of equity, diversity, and inclusion in our research and our workplace. We understand that in order to best embody our agency's mission of turning discovery into health, we must continue to be inclusive of all communities in our research and all related activities, regardless of sex, sexual orientation, and gender identity. It is my hope that during Pride month, all of us take a moment to celebrate the broad diversity of SGM communities and recognize the work that remains in understanding and reducing health disparities within these communities.
From the SGMRO to you, Happy Pride month!
This page last reviewed on May 27, 2021