Featured Investigator: Tonia Poteat, PhD, MPH, PA-C, DFAAPA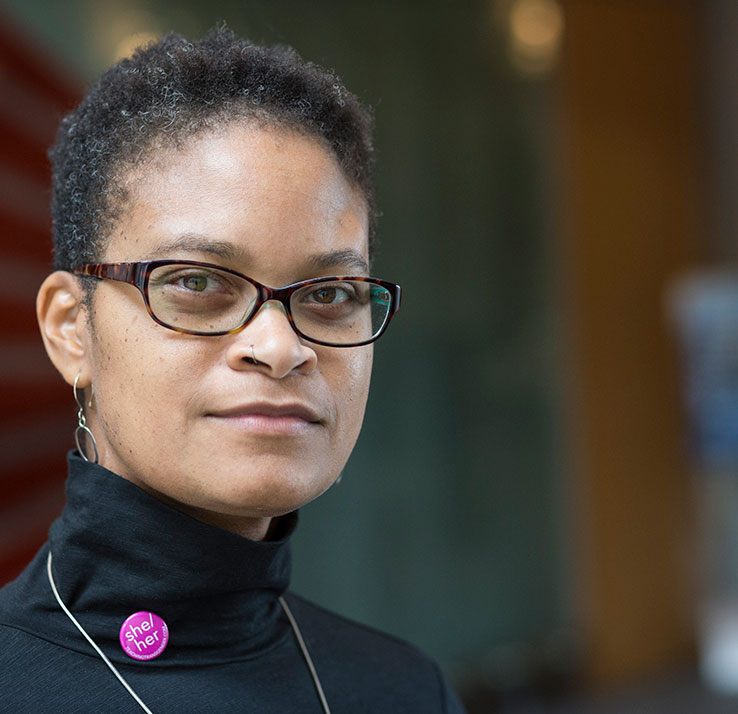 December 2020: Tonia Poteat, PhD, MPH, PA-C, DFAAPA
Assistant Professor of Social Medicine, Core Faculty in the UNC Center for Health Equity Research
University of North Carolina Chapel Hill

Dr. Tonia Poteat is an Assistant Professor of Social Medicine at the University of North Carolina Chapel Hill (UNC), core faculty in the UNC Center for Health Equity Research, clinical preceptor for the Gender Affirming Clinic at UNC's Student Health Action Coalition, and a Physician Assistant in the UNC Infectious Diseases Clinic. Her research, teaching, and clinical practice focus on HIV and LGBTQ health with particular attention to the role of intersectional stigma in driving health disparities. Certified as an HIV Specialist by the American Academy of HIV Medicine, she is a global leader in HIV research and care with transgender persons. In 2019, she was named to the National Academies of Science Consensus Panel on the Well-being of Sexual and Gender Minorities. She has published numerous articles on HIV among transgender adults. She is an Associate Editor for the journal, LGBT Health and served as a guest editor for a special issue of the Journal of the International AIDS Society on HIV among transgender populations.

Q: What are your current research interests?
A: I am interested in research that addresses the intersectional and structural stigma that drives LGBTQ health disparities with a particular focus on the health and well-being of transgender communities.

Q: Tell us about your career path – how did you end up where you are now?
A: I've had a meandering path! My career began with a strong interest in direct medical care. I completed the Emory University Physician Assistant Program in 1995, and I've been providing medical care for LGBTQ communities and people living with HIV ever since. Over the years, I became increasingly interested in public health. I worked in global HIV programs at the Centers for Disease Control and Prevention for several years and completed an MPH in Behavioral Science at Rollins School of Public Health in 2007. In 2012, I completed a Ph.D. in International Health from Johns Hopkins Bloomberg School of Public Health and went back to working in global HIV programs at the Office of the US Global AIDS Coordinator. While there, I realized how little data existed on the health of LGBTQ people, especially outside the U.S., and I wanted to change that. So, I returned to Johns Hopkins in 2014 where I was core faculty in the Center for Public Health and Human Rights and began my research career in both international and U.S.-based LGBTQ health research. In 2018, I moved to NC to be closer to my family, and I've been at UNC-CH ever since. While I'm no longer a full-time clinician, I continue to provide medical care in the HIV clinic at UNC, and I mentor medical students at the local free clinic in the provision of gender-affirming medical care.

Q: What organizational challenges have you faced?
A: As one of the earlier researchers in transgender health, it was initially hard to get funders to pay attention to the unique research needs of this community. I'm happy to see that has changed with time and lots of advocacy by many people over the years.

Q: What advice do you have for trainees and researchers who want to work in this area or are interested in applying for NIH funding?
A: I recommend always engaging and partnering with community members and/or community organizations. They can help guide your research so that you are addressing issues that really matter to the people most affected by them. As for NIH funding, finding mentors with experience writing NIH grants and time to provide detailed feedback is invaluable. And persist! It can take multiple submissions before you get funding, but if you believe in your project, don't give up.

Q: Do you have any specific advice for working with and involving SGM populations in research?
A: Be trustworthy, dependable, and truly care about the people involved in your research studies. It will come through in your work and make it better.

Q: Who inspires you?
A: In the research world, I am deeply inspired by the work of Lisa Bowleg and the work of Nancy Krieger. In the non-research world, my mother inspires me to continue to grow and learn and do my part to build a better future.

Q: Any final words of wisdom?
A: Take some breaks and have some fun. Work is much more gratifying when you return to it after some rest and rejuvenation.
This page last reviewed on February 25, 2021