THRO Announces New Job Openings for Health Scientist Administrators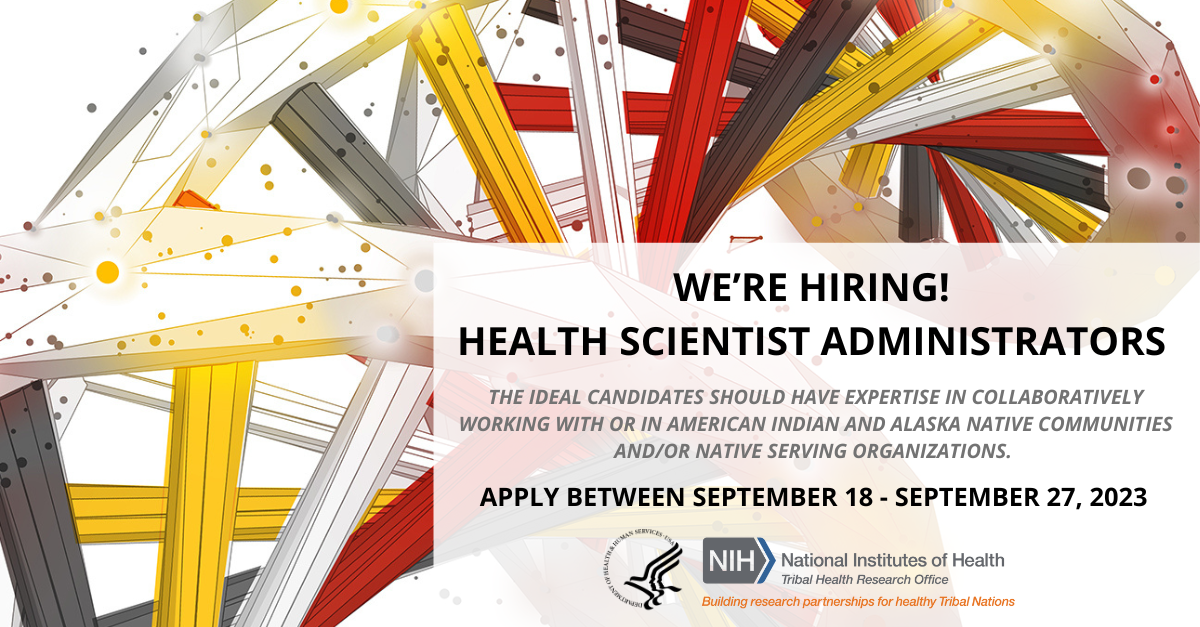 The NIH Tribal Health Research Office (THRO) is excited to announce job openings for new positions within the THRO team. THRO is seeking two energetic, highly motivated, detail-oriented professionals with excellent technical report writing skills and analytics to develop, in collaboration with THRO leadership, relevant NIH American Indian and Alaska Native (AI/AN) research and workforce development metrics, analyses, portfolios, and reports; develop publications and reports on critical cross-cutting AI/AN substantive issues and findings; as well as develop and implement significant NIH-wide AI/AN policy guidelines and initiatives.
The Health Scientist Administrators will use their expertise to assist with the coordination of THRO initiatives, projects, and collaborative opportunities. In response to Tribal Consultation, they will develop research, training, and workforce development initiatives related to AI/AN health equity, disease prevention, and health promotion as well as advance policies and guidelines related to Tribal research ethics and protocols. In this role, they will also disseminate information and guidance on findings related to AI/AN social, behavioral, and biomedical science, disease prevention, and health promotion research.
The ideal candidate should have expertise in collaboratively working with or in AI/AN communities and/or Native serving organizations. The incumbent will apply their knowledge of AI/AN research to promote collaborative research across NIH, HHS, the broader extramural community, and in partnership with Tribal Nations. A major component of the position also involves working with NIH THRO staff and other offices in the NIH Office of the Director (OD) to coordinate policy and research development as well as intramural training activities related to AI/AN research protocols, ethics, and methodologies. On behalf of THRO, the incumbent serves as a contact in interactions, collaborations, and initiatives both inside and outside the federal government. They will represent the NIH and THRO as an active participant on interagency and inter-departmental groups focusing on AI/AN issues and related public health issues.
Applications will be accepted through the following vacancy announcements between September 18 and September 27, 2023. The below announcements will be active links when when the jobs are officially posted.
NIH-GR-DE-23-12097718
NIH-GR-MP-23-12099536