November Is National Native American Heritage Month
During National Native American Heritage Month, we pay tribute to the rich ancestry and traditions of American Indians and Alaska Natives (AI/AN). We honor the health of Native communities and strive to foster healthier AI/AN communities by advancing scientific research and distributing relevant health information.
In this special issue of Honoring Health, we share a sample of the health resources available from the National Institutes of Health (NIH).
Featured Health Information
Visit the recently updated Health Resources for Community Outreach website from the National Institute of Arthritis and Musculoskeletal and Skin Diseases (NIAMS), for free health resources about bones, joints, muscles, and skin to use in outreach and health education efforts.
Check back often for updates. The NIAMS continually updates related health topics, with the goal of providing the most up-to-date health information possible.
---
More than 16 million Americans have been diagnosed with COPD, a serious lung disease and a leading cause of death and disability in the United States. Millions more have the disease and don't know it. Join the National Heart, Lung, and Blood Institute's Learn More Breathe BetterSMprogram this November during National COPD Awareness Month and encourage people to recognize symptoms and talk to a health care provider. While there currently is no cure for COPD,early diagnosis and treatment can greatly improve quality of life. Visit this page to find a variety of educational materials, including social media graphics and posts, animations, fact sheets, and more to help people recognize what COPD is, how it's managed, and the benefits of pulmonary rehabilitation.
---
Waiting around to hear more about COVID-19 may be frustrating. Learn more about how scientists work to find better ways to predict, prevent, diagnose, and treat disease.
News and Events
COVID-19 is an emerging, rapidly evolving situation. Get the latest public health information from the Centers for Disease Control and Prevention (CDC), and the latest research information from the NIH.
The Indian Health Service continues to work closely with tribal partners to coordinate a comprehensive public health response to COVID-19. Read the latest information.
Additional resources include:
---
National Institute on Alcohol Abuse and Alcoholism (NIAAA) researchers and Alaska Native community members recently joined in a webinar to talk about innovative prevention strategies for indigenous communities—in particular, how tapping into a community's culture can serve as a cornerstone for youth alcohol and suicide prevention efforts.
The conversation highlighted a toolkit developed by NIAAA grantees in collaboration with the Yup'ik Native Alaskan community, and how culturally appropriate and community-based principles may be applicable in youth prevention efforts in similar communities across the country. View the recorded webinar here.
---
The National Institute of General Medical Sciences (NIGMS) continues to build relationships with American Indian communities to help teach students about scientific research. Through NIGMS-funded centers at Montana State University, students from Blackfeet Community College worked with Neha John-Henderson, Ph.D., to conduct a study that suggests that a sense of belonging to one's community may mitigate the increase in inflammation often seen in adults with traumatic childhood experiences.
---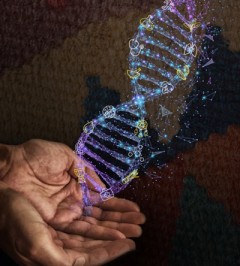 Alaska Native (AN) tribes, tribal health organizations (THOs), and federal partners continue to pursue opportunities to engage AN people in research. The stories shared at the Alaska Native Genomic Workshop highlighted THO research review processes, issues for discussion in the development of data-sharing agreements with federal partners, and areas to explore for additional grant funding to support AN health priorities.
---
The NIH is committed to ensuring diversity and inclusion in research and in our workforce and recognizes diversity of perspectives as crucial for success. The NIH Office of Equity, Diversity, and Inclusion (EDI) encourages you to think of ways inclusive organizations help increase productivity and boost employee morale. Inclusion helps to create an atmosphere in which all individuals are welcomed, respected, and valued, and given equal opportunities. The following EDI articles highlight inclusive workplace practices:
---
The National Institute on Minority Health and Health Disparities (NIMHD) is hosting a national art competition. The Institute invites teens and adults to submit images (paintings, drawings, photos, digital art, etc.) that express the NIMHD's vision: an America in which all populations will have an equal opportunity to live long, healthy, and productive lives.
This Envisioning Health Equity Art Challenge aims to raise national awareness about the prevalence and impact of health disparities and inspire further research on minority health and health disparities.
Submissions are due before February 5, 2021, at 11:59 p.m. ET. Prizes will be awarded in two age categories: Teen (16 to 18 years old at the time of submission) and Adult (19 years or older at the time of submission). Entries may be submitted by an individual or a group of individuals.