Thursday, October 27, 2022

Honoring Health Newsletter
From the NIH Tribal Health Research Office | Fall 2022
Posted on October 27, 2022
Fall 2022
Celebrating Native American Culture and Contributions to Science
In fall, the NIH Tribal Health Research Office (THRO) celebrates National Native American Heritage Month, a special opportunity for us to highlight American Indian and Alaska Native culture, ingenuity, and contributions to biomedical research. Be sure to join us for THRO's annual guest lecture in November and follow us on LinkedIn and Facebook for NIH Tribal health research highlights and shareable information all month long – and beyond!
fall_2022
News and Events
Native American Heritage Month Annual Guest Lecture November 16
Join THRO live on Wednesday, November 16 at 3:00 p.m. ET for our annual Native American Heritage Month guest lecture. This year we're focusing on NIH-funded environmental health research in Alaska with co-presenters Pamela Miller and Viola "Vi" Waghiyi, of the Alaska Community Action on Toxics (ACAT), who study exposures, endocrine effects, contaminants, and chemicals in two Yupik communities on St. Lawrence Island. The team aims to inform public health interventions and empower Alaska Natives to address health disparities in their communities. Visit THRO's website for more information and updates.
---
Blog Post: How to Effectively Communicate About Tribal Health Research
Dr. David R. Wilson, the director of THRO, shared his thoughts in a post on NIH's Science, Health, and Public Trust blog about the importance of understanding the history of Tribes in the U.S. to better communicate with and about American Indians and Alaska Natives.
---
Lecture Overview: Connection Between Culture and Science
In a new overview, THRO summarizes key observations made by Dr. Donald Warne in his November 2021 guest lecture about the interconnectedness of Native culture and science. You can also watch the recorded lecture.
---
Webinar Recordings: New NIH Data Management and Sharing Policy
The new NIH data management and sharing policy (effective 1/25/23) will impact nearly all NIH grant applications. To learn more about this policy, you can watch the recordings of a two-part webinar series. In the second webinar, NIH takes a deeper dive into considerations for privacy protections for sharing human participant data when working with American Indian and Alaska Native communities.
See related Supplemental Information in the Tribal Consultations section below.
---
I Strengthen My Nation Challenge Winners
American Indian and Alaska Native communities have inherent strengths and cultures that foster healthy communities. The NIH National Institute on Drug Abuse and We R Native asked youth ages 14-25 to share their ideas about Indigenous resilience to substance misuse through art or community projects for the I Strengthen My Nation Challenge competition. Young people from 37 Tribal Nations showcased their creativity, strength, and passion for enhancing health in their communities. View the video replay celebrating Challenge winners.
---
Global Food and Nutrition Insecurity Webinar Series Starts November 3
As access to nutritious and safe food becomes increasingly unreliable, research on food insecurity is critically important for people in underserved communities who are disproportionately affected by these trends and resulting health consequences. Join the NIH Fogarty International Center and scientists from around the world on November 3, 10, and 21 for a webinar series focused on innovative nutrition and food insecurity research that can inform efforts throughout the U.S. Learn more and register for the series.
---
STRIVE for Change: Drawing on Our Strengths Youth Art Challenge
The NIH Eunice Kennedy Shriver National Institute of Child Health and Human Development is calling on creative young adults ages 16 to 25 to express their voices and perspectives with a single, still graphic for the STRIVE for Change: Drawing on Our Strengths Art Challenge. Artwork should focus on communities that experience health disparities and highlight community strengths that help manage adversity and bolster resilience for positive health outcomes. NIH is offering up to $15,000 in prizes. Submissions are due November 15. Learn more about how to participate and check for updates.
news_events
Tribal Consultations
IMPROVE Initiative Maternal Health Research Centers of Excellence
NIH is focused on supporting projects that can increase understanding of maternal morbidity and mortality and its effects on American Indians and Alaska Natives. With plans to expand the Implementing a Maternal health and PRegnancy Outcomes Vision for Everyone (IMPROVE) Initiative and establish Maternal Health Research Centers of Excellence, NIH held a Tribal Consultation on June 30 to hear from Tribal leaders about how efforts can best serve Tribal communities and encourage applicants interested in proposing a Native-focused center. Learn more and read the Tribal Consultation Report.
See related funding opportunities below.
---
NIH Strategic Plan for Tribal Health Research, Fiscal Year 2024–Fiscal Year 2028
Over the summer, NIH participated in the U.S. Department of Health and Human Services Regional Tribal Consultations to seek feedback from Tribal leaders on its next strategic plan for Tribal health research. The Fiscal Year 2024–Fiscal Year 2028 plan will build on the current plan to improve NIH's relationship and collaborative efforts with American Indian and Alaska Native communities and aims to address health research needs. THRO is reviewing input and will issue a Tribal Consultation Report this fall. You can view background materials and updates.
---
New Supplemental Information to the NIH Data Management and Sharing Policy
NIH released Supplemental Information to the NIH Data Management and Sharing Policy on "Responsible Management and Sharing American Indian/Alaska Native Participant Data" that was developed in response to the Tribal Consultation on the Draft NIH Data Management and Sharing (DMS) Policy. The new information promotes trustworthy and mutually beneficial research partnerships respectful of Tribal sovereignty and incorporates input from Tribal leaders, the NIH Tribal Advisory Committee, and public comments from Native organizations and community members, researchers, institutions, data providers and users, and others.
---
NIH Tribal Consultation Policy: Fostering Consistent, Meaningful Engagement with Tribal Nations
Earlier this year, NIH issued a new Tribal Consultation Policy, marking an important step that reflects the agency's commitment to sovereign Tribal Nations, a transparent and consistent Tribal Consultation process, and support for the health of American Indians and Alaska Natives through biomedical and behavioral health research. Read Dr. Wilson's statement about the new policy and learn about Tribal Consultation at NIH.
tribal_consultations
Funding Opportunities
Genomic Centers at Minority Serving Institutions
The NIH Diversity Center for Genome Research (DCGR) program aims to establish Genomic Research Centers at Minority Serving Institutions. Each DCGR award will support a multi-investigator, interdisciplinary team in developing two to three innovative genomic research projects. Application due date: November 4.
---
Health Equity Structural Interventions
The NIH Common Fund recently launched the Community Partnerships to Advance Science for Society (ComPASS) Program, which has a funding opportunity for community organizations to develop and implement health equity structural interventions. Letter of intent due date: November 18.
---
Multi-Omics for Health and Disease
NIH is developing three funding opportunities for the Multi-Omics for Health and Disease Consortium, which aims to advance the use of multi-omics technologies to study health and disease in ancestrally diverse populations. The Consortium will have disease study sites to capture phenotypic and environmental exposure data; production centers to produce genomic, epigenomic, and metabolic data; and a data analysis and coordination center to focus on protocol development. Application due date: November 18.
---
Maternal Health Research Centers of Excellence
As part of the IMPROVE initiative, NIH plans to establish Maternal Health Research Centers of Excellence to develop and evaluate innovative approaches to reduce pregnancy-related complications and deaths and promote maternal health equity. Applicants can apply for three funding opportunities for the Centers of Excellence initiative, which will comprise up to seven research centers, one data innovation and coordinating hub, and one implementation science hub. Applications due date: December 5.
---
Common Noncommunicable Disease in Tribal Populations
NIH and the Global Alliance for Chronic Diseases is releasing a funding opportunity to research risk factors for common noncommunicable diseases—such as diabetes, cardiovascular disease, respiratory diseases, certain cancers, and mental health disorders—in low- and middle-income countries and American Indian and Alaska Native populations in the U.S. Application due date: March 6, 2023.
---
Learn More About NIH Funding Opportunities
Visit the NIH Grants and Funding webpage to view a variety of funding opportunities aimed at speeding innovative research and driving better health outcomes.
opportunities
Student Training and Internships
NIH recognizes that investing in future scientists influences the health and well-being of generations to come. There are opportunities for students (high school and beyond) at the world's largest biomedical research agency.
Student Spotlight with Leah Nez
In a Q&A with THRO, Leah Nez discusses her background, experience as a post baccalaureate fellow with NIH, her path to studying bioethics, and advice for other students interested in science research and health. Learn more about the Health Disparities in Tribal Communities Summer Internship Program and apply starting this November!
---
Explore Opportunities!
training
Research Highlights
Burning Plastic Can Affect Air Quality, Public Health
With limited options for disposing of waste on some Tribal lands, people often have to resort to open dumping or waste burning. NIH-funded researchers are working with Tribal Nations and community partners on a solid waste project to determine the types of chemicals and toxins released from these activities, and how much they may be affecting human and environmental health around the sites. The results will help inform safer, more effective ways to dispose of waste. Learn more about this important research and the Center for Native Environmental Health Equity Research in the Environmental Factor newsletter from NIH's National Institute of Environmental Health Sciences.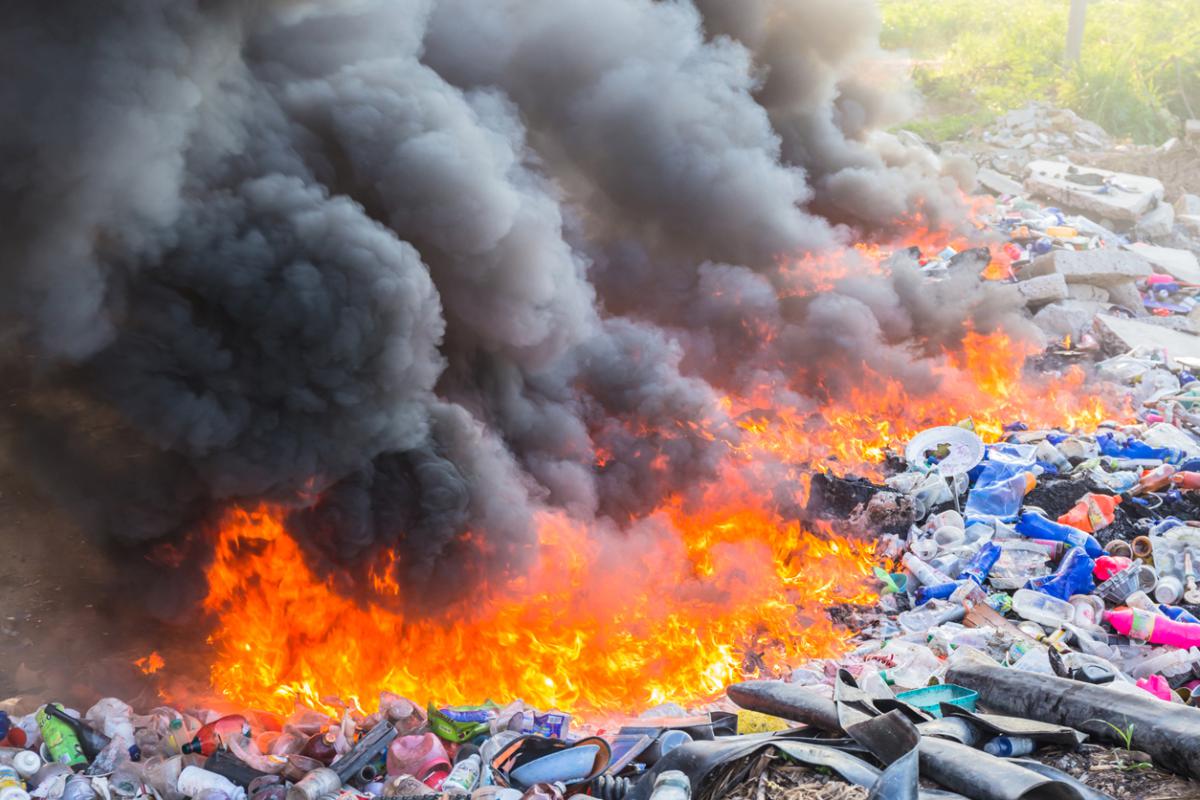 ---
Life Expectancy Gaps Among Racial and Ethnic Groups in the U.S.
An NIH-funded study looked at trends in life expectancy by county, providing unprecedented detail by geography and population groups. Researchers found that while the overall life expectancy in the U.S. increased by 2.3 years, the increase was not consistent among racial and ethnic groups and by geographic area, including among American Indians and Alaska Natives. Read the news release to learn more.
---
Treating Anxiety and Depression During the Pandemic with a Mobile App
The newly developed Easing Anxiety Sensitivity for Everyone (EASE) mobile app was designed to educate people about anxiety and depression, help them monitor symptoms, and give them strategies to manage their symptoms. In a study, researchers will determine whether the app can help reduce a user's symptoms and improve their quality of life, especially among communities significantly affected by the pandemic. Read about how researchers at the University of Oklahoma Health Sciences Center are assisting with recruitment of American Indian participants to ensure that the study can show whether EASE is helpful for American Indians.
research_highlights
Featured Health Information
Healthy Moments: Tips for Living a Healthy Lifestyle
Tune in to the Healthy Moments radio program featuring Dr. Griffin P. Rodgers, director of NIH's National Institute of Diabetes and Digestive and Kidney Diseases, for one-minute tips on living a healthy lifestyle and preventing or managing chronic diseases. You can also share this information on your own channels and encourage your local radio stations to air episodes free of charge.
---
Free Monthly Consumer Health Newsletter from NIH
You can request free paper copies of NIH News in Health for your clinics, schools, libraries, and community centers! This monthly research-based newsletter is written in plain language, covers a variety of health topics, and includes lists of helpful health tips for bulletin boards.
---
PATHWAYS: Magazines, Lessons, Activities, and Videos on Real-World Science Topics for Grades 6–12
Check out Pathways magazine from NIH's National Institute of General Medical Sciences. Download free science, technology, engineering, and mathematics teaching guides, lessons, and activities. Pathways is for students in grades 6–12 and is designed to build awareness of basic biomedical science and its importance to health while inspiring careers in research.
featured_health
This page last reviewed on November 23, 2022