What Your Community Needs To Know About COVID-19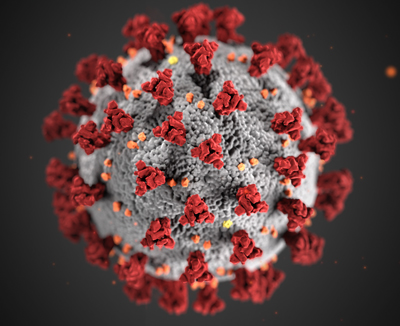 The coronavirus disease 2019 (COVID-19) pandemic is an emerging, rapidly evolving situation. For this reason, we are focusing this issue of Honoring Health on the latest public health and research information available, to help you keep your community informed.
Featured Health Information
Latest Public Health Information From the CDC
Find information from the Centers for Disease Control and Prevention (CDC) on: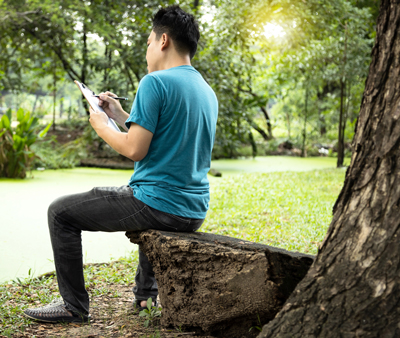 The outbreak of COVID-19 may be stressful for people. Fear and anxiety about a disease can be overwhelming and cause strong emotions in adults and children. Coping with stress will make you, the people you care about and your community stronger. Learn more here.
The CDC offers free resources including videos, fact sheets and posters. Here, you can find current communication tools and resources available for use and distribution.
---
Latest Research Information From the NIH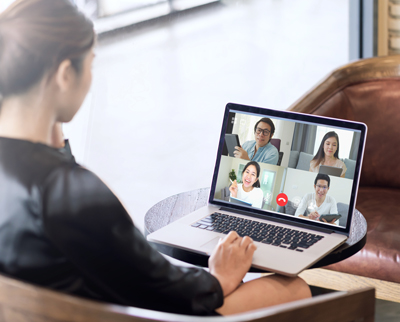 Social distancing remains one of the best ways we have to slow the silent spread of this virus and flatten the curve of the COVID-19 pandemic. That's because researchers have discovered that many people can carry the novel coronavirus without showing any of the typical symptoms of COVID-19: fever, dry cough, and shortness of breath. This will give our health care professionals, hospitals and other institutions more valuable time to prepare, protect themselves and aid the many people whose lives may be on the line from this coronavirus.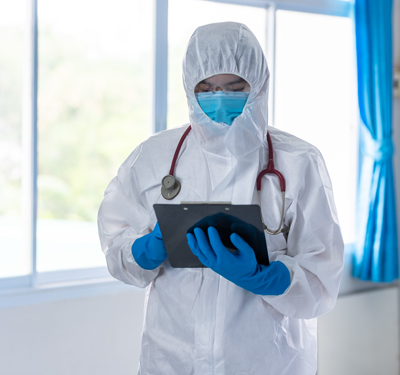 This website from the NIH has important educational resources for workers responding to the spread of COVID-19. It contains health and safety resources for workers or volunteers who may be at risk of exposure.
The COVID-19 outbreak, caused by the virus named SARS-CoV-2, is on all our minds lately. The situation is complicated, and the facts are evolving. Learn what health communicators can do to help inform the public without inciting a panic.
As people across the United States and the rest of the world contend with COVID-19, the community should be alert to the possibility that it could hit some populations with substance use disorders particularly hard. Learn more here.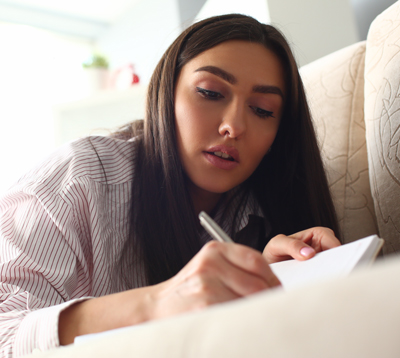 A traumatic event, such as the COVID-19 pandemic, is a shocking and scary experience that can affect someone emotionally and physically. This page from the NIH's National Institute of Mental Health is dedicated to informing you about ways to cope with fear, anxiety and stress.
---
Resources From Other Federal Agencies for You and Your Community
The Indian Health Service (IHS) is working closely with tribal partners and state and local public health officials to coordinate a comprehensive public health response to the ongoing COVID-19 pandemic. Visit the IHS website and these frequently asked questions about the federal response in Indian Country for more information.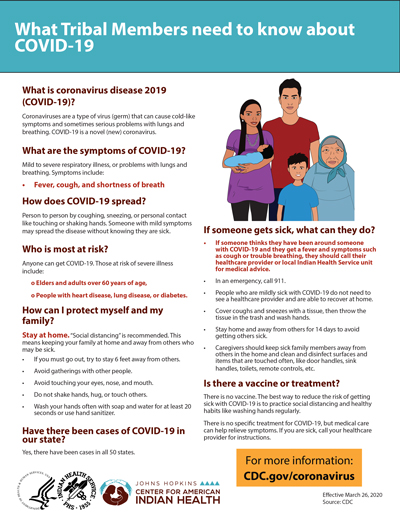 The IHS, in partnership with the Johns Hopkins Center for American Indian Health and tribal health departments, offers resources designed for AI/AN communities grappling with COVID-19. The communication materials are based on CDC guidance and share best practices for protecting tribal communities during this outbreak. Learn more here.
People who are age 65 or older are more likely to have serious COVID-19 illness. This may be because immune systems change with age, making it harder to fight off diseases and infection. Older adults also are more likely to have underlying health conditions that make it harder to cope with and recover from illness. Learn more here.
The U.S. Department of Health and Human Services (HHS) Office of Inspector General is alerting the public about fraud schemes related to COVID-19. Scammers are offering COVID-19 tests to Medicare beneficiaries in exchange for personal details, including Medicare information. However, the services are unapproved and illegitimate. Learn more here.
Under the direction of the White House Coronavirus Task Force, the Federal Emergency Management Agency (FEMA), HHS and federal partners are working with state, local, tribal and territorial governments to execute a Whole-of-America response to fight the COVID-19 pandemic and protect the public. Learn more here.
This FEMA page helps the public distinguish between rumors and facts regarding the response to the COVID-19 pandemic. Rumors can easily circulate within communities during a crisis. Learn more here.