Biographical Sketch of Ruby Akomeah, OAM Director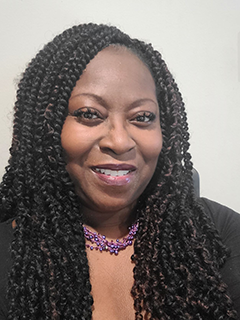 Former DPCPSI Director James M. Anderson, M.D., Ph.D. announced the appointment of Ruby Akomeah as Director of DPCPSI's Office of Administrative Management (OAM), on May 19, 2014. Ms. Akomeah joined OAM on June 16, 2014.
Ms. Akomeah's career with the NIH began in December of 1986 at the National Eye Institute and in the following years, she took on progressively greater responsibilities and leadership roles with other institutes, seeking to expand her knowledge of administrative services and management. In 2003, she served as a Supervisory, Administrative Officer at the National Institute of Allergy and Infectious Diseases and in her most recent role she served as the Chief for the Office of Management and Policy Analysis (OMPA) in the National Institute of Diabetes and Digestive and Kidney Diseases (NIDDK). In this role as the OMPA Chief, Ms. Akomeah oversaw and managed multiple aspects of business operations, including general administration, risk management, policy and regulatory compliance, as well as procedural development and implementation.
Ms. Akomeah has a wealth of administrative knowledge and extensive experience in troubleshooting and developing creative, innovative solutions to business challenges. She also has proven abilities to successfully manage change for improved performance and efficiency.
She has served on several committees and workgroups at the IC and NIH levels and has received many accolades throughout her career including the NIDDK Director's Award in 2007. Ms. Akomeah holds an M.S. in Management from the University of Maryland and a B.S. in Business Administration from Columbia Union College.