About Us
Meet the Office of Portfolio Analysis Staff
Meet the Director, Dr. George Santangelo and his dedicated team of analysts, data scientists, software developers, and support staff who comprise the Office of Portfolio Analysis.
Who We Are
The Office of Portfolio Analysis (OPA) was established in 2011, and is part of the Division of Program Coordination, Planning, and Strategic Initiatives (DPCPSI) within the Office of the NIH Director (OD). OPA is an interdisciplinary team that impacts NIH-supported research by enabling NIH decision-makers and research administrators to evaluate and prioritize current and emerging areas of research that will advance NIH's mission.
who
What We Do
Since OPA's inception, the groundbreaking work of its analysts, data scientists, and software engineers has generated substantial interest both within and outside of NIH. As a result, OPA now provides methodological and analytical support for data-driven decision-making by NIH senior leadership, NIH Institutes, Centers, and Offices (ICOs), and extramural stakeholders (e.g., administrators in other federal agencies). OPA has also established collaborations with administrators, analysts, and researchers across the U.S. government and abroad, as well as those in academia and the private sector, and is now regularly publishing advances in NIH-focused science-of-science research in the peer-reviewed literature.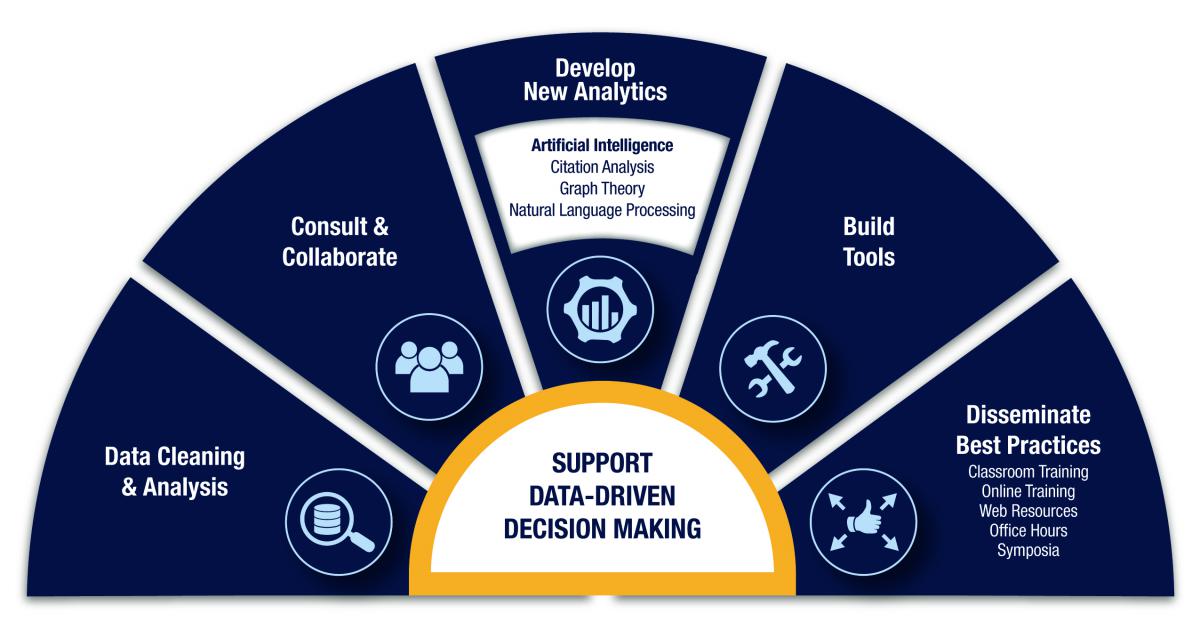 Other areas of focus include:
Prepare and analyze data on NIH sponsored biomedical research to inform NIH-wide planning and coordination
Serve as a resource for portfolio management at the programmatic level
Employ Artificial intelligence based approaches to support analysis of the biomedical research landscape and inform data-driven decision-making by NIH leadership
Develop and disseminate databases, analytical tools, methodologies and other resources to conduct assessments in support of portfolio analyses and priority setting in scientific areas of interest across NIH
Research and develop new analytical tools, support systems, and specifications for new resources in coordination with other NIH organizations to enhance the management of the NIH's scientific portfolio
Provide, in coordination with other NIH organizations, training on portfolio analysis tools, approaches, and methods
OPA works alongside the NIH Office of Evaluation, Performance and Reporting (OEPR), which coordinates and leads NIH efforts to better capture, communicate, and enhance the value of biomedical research through strategic planning, performance monitoring, evaluation, and reporting. The Office also coordinates with other OD offices to supplement and complement data-driven analytical efforts within their missions.
The OPA Strategic Plan FY 2021-2025 establishes how the office will accelerate biomedical research by supporting data-driven decision making.

Read our strategic plan
what
This page last reviewed on July 29, 2022