You are here
Council of Councils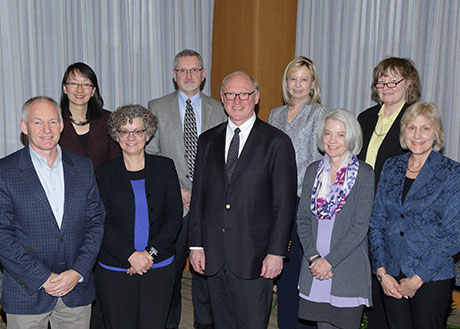 New Members
DPCPSI Director, Dr. James Anderson (middle front row) meets with the newest members of the Council of Councils. Members are (back row from l) Vivian Lee, Keith Reimann, Kimberly Leslie, Sharon Anderson; and (front row from l) Hakon Heimer, Guillermina Lozano, James Anderson, Terry Jernigan, Mary Carnes.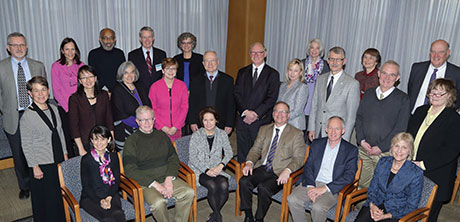 All Current Members
The current Council of Councils members are (back row from l) Keith Reimann, Norma Kenyon, Emery Brown, Philip Alderson, Guillermina Lozano, Terry Jernigan, Susan Goekler, Gilbert White; (middle row from l) Lila Gierasch, Vivian Lee, Marlene Belfort, Nancy Haigwood, King Holmes, DPCPSI Director James Anderson, Kimberly Leslie, Craig McClain, Terry Magnuson, Sharon Anderson; (front row from l) Ana Cuervo, James Schwob, Janice Clements, Steven DeKosky, Hakon Heimer, Mary Carnes; (not pictured) Carlos Bustamante, Judy Garber, Barbara Guthrie, Norbert Pelc.
The NIH Reform Act of 2006 (P.L. 109-482), passed by Congress in December 2006, and signed into law by the President in January 2007, established the Council of Councils. The Council is made up of approximately 30 members, selected from NIH Institute and Centers (IC) Advisory Councils, representatives nominated by the Office of the Director program offices, and broad lay representation, including a member of the NIH Council of Public Representatives. The Council advises the NIH Director on matters related to the policies and activities of the Division of Program Coordination, Planning, and Strategic Initiatives (DPCPSI). The Council also acts as an external advisory panel to the IC Directors during the "concept approval" stage of the NIH Roadmap initiative review process. The concept approval stage involves the consideration of a list of potential trans-NIH initiatives developed by the DPCPSI staff after receiving input from multiple sources. The information provided to the Council by DPCPSI staff could include deliverables, timetables, and projected costs for each initiative. The recommendations from the Council will then be considered by the DPCPSI Director and the IC Directors. More information on the Council of Council's role and the NIH Reform Act of 2006 can be found at http://www.nih.gov/about/reauthorization/index.htm.
​
News & Events
News
Membership
Meetings
Working Groups