Recovery Funds Support Students Participation in International Synthetic Biology Competition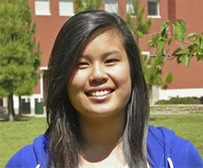 Cathy Liu is a sophomore at the University of California, Los Angeles currently majoring in Molecular Biology and a veteran of last year's UCSF iGEM team.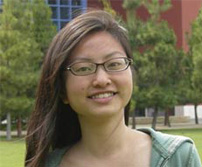 Jacqueline Tam is a freshman at the University of California, Berkeley majoring in Chemical Biology.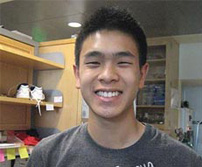 Ryan Quan is a sophomore majoring in Molecular Biology at the City College of San Francisco.
Nine students, including seven high school students and two undergraduates, had the opportunity to work in Dr. Wendell Lim's Nanomedicine Development Center this summer and represent the University of California, San Francisco (UCSF) at the International Genetically Engineered Machine (iGEM) competition. The students were supported by funds from the American Recovery and Reinvestment Act (ARRA), made available to the National Institutes of Health's Office of the Director and provided the needed financial assistance to support high school and college students through educational training opportunities and promote careers in science and biotechnology research.
"Participating on UCSF's iGEM team is an unparalleled learning experience," said Jacqueline Tam, a recent graduate of Abraham Lincoln High School and UCSF iGEM team member this past summer. "This is my first formal lab experience, and I am incredibly thankful that it took place here at the Lim Lab at UCSF," Tam is currently a freshman at the University of California, Berkeley, majoring in Chemical Biology.
According to the website, iGEM

is the premiere undergraduate Synthetic Biology competition. This competition, seated at the Massachusetts Institute for Technology, provides student teams with a biological toolkit at the beginning of the summer. The UCSF team worked over the summer using the parts provided in the kit and adding in components of their own design to "build biological systems and operate them in living cells." For the 2009 competition, more than 110 teams including some 1200 participants took part in designing, building and testing "simple biological systems made from standard biological parts."

Team UCSF's project, Engineering Motile Cellular Robots,

won a Silver Medal in the "Best Health or Medicine Project" category at this year's iGEM Championship Jamboree in November 2009 in Cambridge, Mass.
UCSF's participation in iGEM started in 2007 when Lim began recruiting graduating seniors from Abraham Lincoln High School who had completed a two-year biotechnology course to work in his molecular logic of cellular signaling systems lab. Landing a spot working in his lab also assures the students a place on the UCSF iGEM team, an exceptional opportunity for these recent high school graduates since the members of the competing iGEM teams are usually college undergraduates. Initially at UCSF, the students attended a "boot camp" that trained them in the finer points of reading and discussing science articles to gain a deeper understanding of cell motility (how a cellular organism moves around in its environment) among other topics. "The two-week boot-camp allowed us to sink our teeth into the material, which is necessary because the students are the ones who develop the project," explained Cathy Liu, a two-year veteran of the UCSF iGem Team and a sophomore at UCLA.
The UCSF students' project at this year's iGem competition manipulated the behavior of cells to make them behave like cellular robots. These therapeutic cells, also known as nanorobots, are biotechnological tools that could be reprogrammed to hone in on a specific site in the body to combat disease by delivering drugs or killing tumors, for instance. Nanomedicine, an offshoot of nanotechnology, refers to highly specific medical interventions at the molecular scale for curing disease or repairing damaged tissues, such as bone, muscle, or nerve. A nanometer is one-billionth of a meter, too small to be seen with a conventional lab microscope. It is at this size scale, about 100 nanometers or less, that biological molecules and structures inside living cells operate.
By the end of the summer, the students were successful in controlling the navigation system of mammalian and slime mold cells to the point of being able to alter what the cells pursued and how strong of a chemical signal they needed to provoke a response. They also could control the speed of the cells' movement and engineer the cells to carry and deliver a cargo. This engineering of cells is referred to as synthetic biology. It amounts to combining science and engineering to modify the function of cells to produce or synthesize a new desired cellular function.
During the summer, Lim oversees the work but it is the students who are encouraged to explore and are ultimately responsible for coming up with the ideas and determining their feasibility. "Wendell allows us to take risks in the lab," said Liu. "If something doesn't work, then we troubleshoot which takes a long time! We identify the problem and try again. We are not afraid to make mistakes." When describing what were frequently 14-hour days working in the lab she said, "Summer was intense and demanding but fun." Liu, a self-described independent worker, learned about the importance of teamwork during her two summers in the lab, "I can't do it all on my own, and it takes a really long time to learn this and produce the best data."
Amusingly, fellow summer student Tam ended up in the first year of the high school biotech program by a scheduling mistake but she says she never looked back or regretted the two years. She also had planned to take it easy the summer before college but found herself working a typical day in the lab from 8:30 a.m. to 7 p.m. Her experience this summer taught her that, "It's really important to balance your life inside and outside the lab so you aren't just focused on your lab work." Tam described her thoughts on biomedical research in general saying that, "Research is a continuous process – there are always more things to discuss. It's about taking what other researchers already know and using the information maybe not in the way it was intended but what you want it for." She also talked about how research "teaches perseverance especially with things that don't work out and you have to work through them." Collaboration and problem solving are certainly skills that will carry these students far and a recipe for success in any future work environment.
Another student veteran working in Lim's lab this summer was Ryan Quan, currently a sophomore majoring in Molecular Biology at the City College of San Francisco. He described what the summer opportunity working in Lim's lab and participating at iGEM has meant. "The summer program has made a huge difference for me. I've gotten to do lab research and gain experience that I would not have gotten to do at all for a few years. It really gives me an advantage. I have learned so many things. In addition to learning many lab techniques and project design, I also gained skills in presenting my ideas and teaching others lab techniques." Quan also noted that working at UCSF not only provided him with firsthand lab experience but also gave confidence in his choice of major and career path. On top of everything else the students learned this summer, they all noted that iGEM gave them the chance to learn and practice presentation skills.
Next year, Lim plans to use his ARRA funds to support a middle school teacher who is working with his lab to develop curriculum for his classroom that incorporates what was done at iGEM and translates to the students in the classroom throughout the school year.
The Nanomedicine Program is funded through the NIH Common Fund and is managed by the National Eye Institute, the National Human Genome Research Institute, and the Office of Strategic Coordination (OSC), all part of the NIH. The NIH Common Fund encourages collaboration and supports a series of exceptionally high impact, trans-NIH programs that no single NIH institute could tackle alone, but which the agency as a whole can address to make the biggest impact possible on the progress of medical research. Additional information about the NIH Common Fund Roadmap can be found at http://commonfund.nih.gov.
The National Institutes of Health (NIH) — The Nation's Medical Research Agency — includes 27 Institutes and Centers and is a component of the U.S. Department of Health and Human Services. It is the primary federal agency for conducting and supporting basic, clinical and translational medical research, and it investigates the causes, treatments, and cures for both common and rare diseases. For more information about NIH and its programs, visit www.nih.gov.
The summer students interviewed for this article are being funded through the American Recovery and Reinvestment Act (ARRA). More information about NIH's ARRA grant funding opportunities can be found at http://grants.nih.gov/recovery. To track the progress of HHS activities funded through the ARRA, visit www.hhs.gov/recovery. To track all federal funds provided through the ARRA, visit www.recovery.gov.