Karate Black Belt Concentrates on Career in the Biological Sciences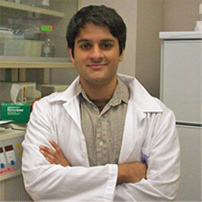 Sumeet Sharma
Sumeet Sharma is one student who feels very lucky to be working in a research lab this summer. "It's tough to find labs that will take students for just the summer," explained Sharma, a sophomore at Cornell University. Thanks to funds from the American Recovery and Reinvestment Act (ARRA), he has a summer internship in Dr. Xiadong Cheng's biochemistry lab at the Emory University School of Medicine.
"These funds opened up a lot more opportunities for undergrads in research," Sharma said. He also noted the double bonus of an internship that provides hands-on lab experience and a summer income. The ARRA funds, made available to the National Institutes of Health's Office of the Director, are providing otherwise not readily available financial assistance to support high school and college students through educational training opportunities and promote careers in science and biotechnology research.
Sharma, from Dunwoody, Georgia, grew up influenced by the research science careers of both parents. His father is an AIDS researcher, and his mother works in AIDS prevention. This exposure engendered his interest in and enthusiasm for science from an early age. At Cornell University, he is majoring in Biological Sciences with a concentration in Biochemistry.
As a certified instructor with a black belt in karate who has taught young children in martial arts, he shows fortitude and perseverance–two qualities that often forecast success for a scientific research career. While he has not yet decided whether he will opt for a degree in medicine or medical research, he is clear on his pursuit of a career in the biological sciences. Sharma described how he is motivated by biological research since it is the core to revealing the intricate chemical mechanisms that govern all living things.
In Cheng's lab, Sharma is supporting work in the area of epigenetics which examines how genes are controlled, that is, turned on or off. All bodily functions are under some form of genetic control. Genes can be turned on to perform a function or silenced by changes in the three dimensional structure of genetic material. These changes are caused by molecules known as epigenetic factors that bind to genetic material. Epigenetic factors are found in a mother's womb, in our diet, and in the environment we live in. Binding of these factors to genetic material can preserve healthy gene function or can destroy it resulting in diabetes, cancer, autoimmune diseases, mental disorders, stress, among other illnesses. Cheng's lab is trying to discover new epigenetic factors that regulate gene activity. Sharma's daily routine includes a variety of lab techniques that allow him to study the regulation of genes. He will be back in Cheng's lab next summer supported for a second time with ARRA funds.
Cheng hopes that Sharma will obtain theoretical knowledge and practical experience to benefit him not only in his undergraduate goals of a biology major but as a first step in building a platform for reaching new levels of experience in biology that will contribute to his achievements for the rest of his life. The chance to work hands-on in a cutting-edge laboratory will give him an extraordinary insight into the practical aspects of biology, which is exactly what is necessary to become introduced to the world of scientific research.
The Epigenomics Program is funded through the NIH Common Fund and is managed by the National Institute of Environmental Health Sciences, the National Institute on Drug Abuse, the National Institute on Deafness and Other Communication Disorders, the National Institute of Diabetes and Digestive and Kidney Diseases, and the Office of Strategic Coordination. The NIH Common Fund encourages collaboration and supports a series of exceptionally high impact, trans-NIH programs that no single NIH institute could tackle alone, but which the agency as a whole can address to make the biggest impact possible on the progress of medical research. Additional information about the NIH Common Fund Roadmap can be found at http://commonfund.nih.gov/.
The National Institutes of Health (NIH) — The Nation's Medical Research Agency — includes 27 Institutes and Centers and is a component of the U.S. Department of Health and Human Services. It is the primary federal agency for conducting and supporting basic, clinical and translational medical research, and it investigates the causes, treatments, and cures for both common and rare diseases. For more information about NIH and its programs, visit http://www.nih.gov/.
The summer student interviewed for this article are being funded through the American Recovery and Reinvestment Act (ARRA). More information about NIH's ARRA grant funding opportunities can be found at http://grants.nih.gov/recovery. To track the progress of HHS activities funded through the ARRA, visit http://www.hhs.gov/recovery. To track all federal funds provided through the ARRA, visit http://www.recovery.gov/.