Recovery Funds Offer Hands-On Research Opportunities And Prepare Students for Stimulating Careers in Science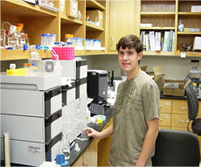 Matthew Dix plans to pursue a major in Physics this fall at Davidson College.
"Sure, there are still mysteries out there but that just means we get to have more fun figuring them out," is how recent high school graduate Johann Choo explains his love of science. This summer, he is working at the Center for Biophysical Sciences and Engineering (CBSE) at the University of Alabama at Birmingham (UAB), thanks to funds from the American Recovery and Reinvestment Act (ARRA). Choo is one of three students including another recent high school graduate, Matthew Dix, and college student, David Dowd, who have summer internships with Dr. Larry DeLucas, the director of the Center. The ARRA funds, made available to the National Institutes of Health's Office of the Director, are providing otherwise not readily available financial assistance to support high school and college students through educational training opportunities and promote careers in science and biotechnology research.
DeLucas, a former astronaut who flew on the space shuttle Columbia in 1992, uses his extraterrestrial experience to interest students and teachers in science. He has a stellar track record of mentoring high school and undergraduate students as well as teachers from the Birmingham area. Under DeLucas' leadership, CBSE provides an interactive atmosphere where students participate in cutting edge research side by side with leading biomedical researchers.
Encouraged by working on a unique CBSE-sponsored project at their high school that sent proteins into space to crystallize, Choo and Dix heard from DeLucas that he had summer internship positions available. Dowd learned about the internship opportunity from a local biomedical engineering company in the Birmingham area.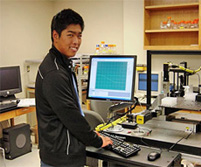 Johann Choo will attend Johns Hopkins University this fall, majoring in Biomaterials Engineering.
In DeLucas' lab, the students are learning to use novel techniques to increase the ability of proteins to dissolve in a liquid solution. When the proteins are very highly concentrated, they are more likely to form large crystals when the liquid evaporates. Having the proteins in a crystalline form then allows the investigators to examine the proteins in new ways. This can lead to the development of new drugs that alter the protein's activity in the body or, in the case of the particular proteins being examined in DeLucas' lab, to increased shelf life of vaccines.
Dix, from Helena, Alabama, is pleased about gaining this experience doing research and lab work. He said it will help him know his way around a lab environment in college at Davidson College where he will major in physics starting in the fall of 2009. Dix described his internship experience further saying, "I am still not sure what I will focus on within the field of physics but I have been reassured by my experiences at UAB of my decision to pursue a career in research." He is interested in studying either particle physics or structural biology which mingles the fields of physics and biology. Fostering students' early interest in emerging fields of science is another benefit of internship opportunities in an authentic research setting.
Choo, from Hoover, Alabama, noted that working at CBSE is the first opportunity he has had to work in a biomedical laboratory. He hopes it will not be his last. "What I love about science is that it provides an in-depth guide to how things work in our lives. I want to learn more about how our world fits so perfectly together."
This summer, Choo is learning how to set up experiments, operate the high tech lab equipment, and retrieve and then read the resulting data. He remarked that working in a real lab environment is providing him with professional experience, compared to being in the high school lab where he could mess up with no harm done. "Working in the UAB lab is a little nerve racking because there is no room for mistakes," he explained. Another thing Choo is enjoying about working in the CBSE lab is that he sees it as a great opportunity to work with fellow researchers, including doctoral students, to get a real sense of what a career in science would be like. Choo will pursue a major in biomaterial engineering as a freshman at Johns Hopkins University in September.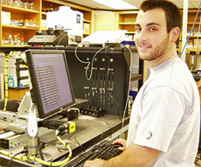 David Dowd is a sophmore at Dartmouth planning to major in Biomedical Engineering.
For Dowd of Mountain Brook, Alabama, this is also his first opportunity to work in a research environment. He hopes to apply this experience as a start to a career in medicine or medical research. "This internship provided me an opportunity early in my college career to determine whether research could be a viable and enjoyable career path for me. I have found that I enjoy research more than I thought that I would and could spend the rest of my life studying medicine or biomedical engineering."
Dowd is about to start his sophomore year at Dartmouth where he plans to major in Biomedical Engineering. His career interests stem from a desire to spend his life doing something personally gratifying. "This have always wanted to know how the human body works and how to fix it. I believe practicing medicine or developing techniques that could save lives will be extremely fulfilling."
All three students expressed gratitude for the opportunity to go through a daily routine learning in the laboratory. The students began the summer learning fundamental protein characterization techniques and protein crystallization. By the end of the summer they will have experience using several novel protein laboratory techniques developed in DeLucas' lab. More importantly, these students are witnessing how the combination of biochemistry, molecular biology, mathematics, physics, and crystallography can achieve goals in the lab. Having this exposure to a real life interdisciplinary research approach to science is an invaluable and indelible experience that will influence the students for some time as they go on to pursue their own careers in science.
Next year, DeLucas plans to use his ARRA funds to support an inner city high school teacher's work at CBSE and provide new knowledge and laboratory skills that can be translated directly to the students in the teacher's high school classroom throughout the school year.
The Structural Biology Program is funded through the NIH Common Fund and is managed by the National Institute of General Medical Sciences and the Office of Strategic Coordination (OSC), all part of the NIH. The NIH Common Fund encourages collaboration and supports a series of exceptionally high impact, trans-NIH programs that no single NIH institute could tackle alone, but which the agency as a whole can address to make the biggest impact possible on the progress of medical research. Additional information about the NIH Common Fund can be found at http://commonfund.nih.gov.
The National Institutes of Health (NIH) — The Nation's Medical Research Agency — includes 27 Institutes and Centers and is a component of the U.S. Department of Health and Human Services. It is the primary federal agency for conducting and supporting basic, clinical and translational medical research, and it investigates the causes, treatments, and cures for both common and rare diseases. For more information about NIH and its programs, visit http://www.nih.gov.
The summer students interviewed for this article are being funded through the American Recovery and Reinvestment Act (ARRA). More information about NIH's ARRA grant funding opportunities can be found at http://grants.nih.gov/recovery.To track the progress of HHS activities funded through the ARRA, visit www.hhs.gov/recovery. To track all federal funds provided through the ARRA, visit www.recovery.gov.