Frequently Asked Questions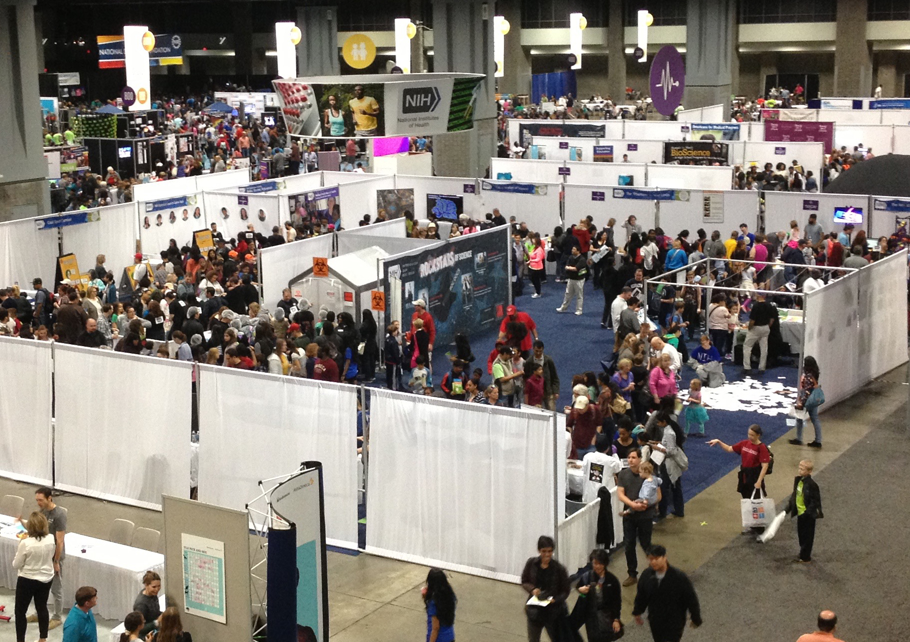 Where is the Festival located?
The festival is located in the Walter E. Washington Convention Center, Washington D.C. The Convention Center is located at 801 Mount Vernon Place (between 9th and 7th Streets NW on L Street NW). See map of location.
location
What are the closest Metro stops?
The Green and Yellow line Mt. Vernon Square/7th St Convention Center Metro Stop exits into the Convention Center. (See Metro Map.)
metro
How can I find the NIH Pavilion?
As you enter the exhibit hall of the convention center, look up to the rafters for the large NIH Ring circling above the NIH Pavilion area. Check back here for updates on our exact location, once the event map is created.
find
What audience is the Festival geared toward?
There are a variety of interactive activities and stage shows, that people of all ages may find something of interest. There is also a Kids Pavilion for children 7 years of age and younger.
audience
What are the topics or themes that are covered at the Expo?
In addition to the Health and Medical topics at the NIH Pavilion, other pavilions will cover topics such as Natural Sciences (includes biology, chemistry, physics); Earth Science (includes earth, sea, sky, weather); Astronomy/Space Exploration; Engineering (includes robotics); Social Sciences (includes psychology and sociology); Math/Computer Science; High Technology (includes nanotechnology and green technology).
topics
Who can work at the NIH Pavilion?
We are looking for NIH staff to work at the NIH Pavilion. USASEF is an officially sanctioned activity for all NIH federal goverment employees. All employees who work at the event, as a part of their official duties, are entitled to compensation for their hours of service or overtime. NIH contractors, depending on your position and contract, are welcome to support the event. To learn how you can work at the event, visit the staff resources page.
who
Can my child/student/spouse/friend volunteer at the NIH Pavilion?
Only NIH staff may work in the NIH Pavilion. However, the USA Science and Engineering Festival is always looking for volunteers to support the festival planning as well as on-site efforts. You can volunteer directly at the USA Science and Engineering Festival Volunteer website.
whoelse
Will there be food at the event?
There will be a variety of food options available at concession carts in the Expo halls and a food court in the convention center. They will be open during the show hours.
For more frequently asked questions, visit the USA Science & Engineering Festival FAQs.
food
This page last reviewed on December 6, 2019