Director's Corner
About the Director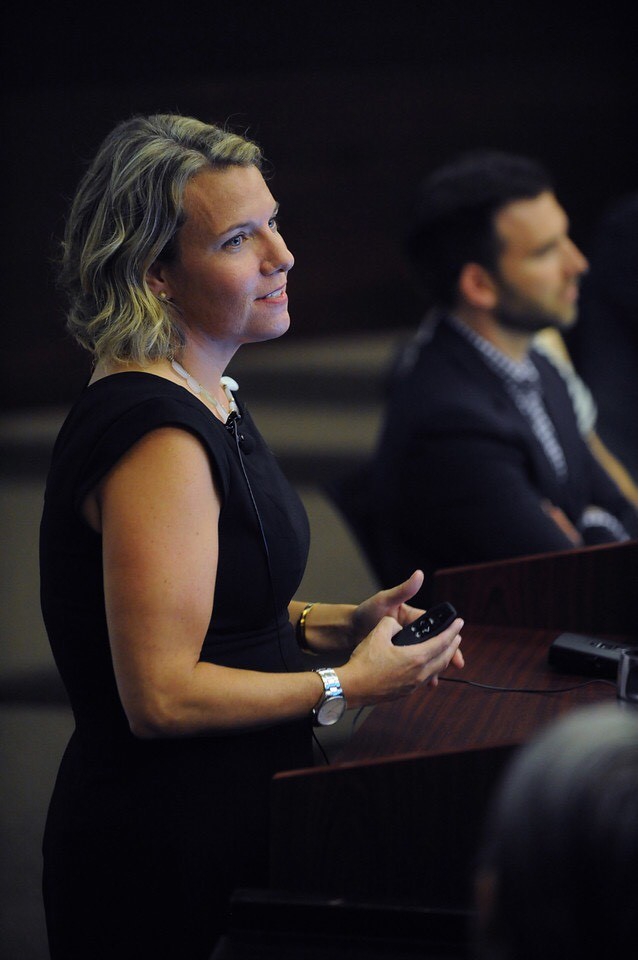 Karen L. Parker, Ph.D., M.S.W. currently serves as Director of the Sexual & Gender Minority Research Office, NIH. Dr. Parker was instrumental in the formation of the office in the fall of 2015 and was appointed as Director in June, 2016. The office coordinates NIH research related to the health of sexual and gender minorities across the NIH Institutes, Centers, and Offices. In her new role, she also serves as co-chair of the trans-NIH Sexual and Gender Minority Research Coordinating Committee (RCC) and has served on the committee since its inception in 2011.
The office was established in response to the 2011 NIH-commissioned Institute of Medicine Report (now the National Academy of Medicine), which highlighted opportunities where NIH could better support current knowledge of the health status of the lesbian, gay, bisexual, and transgender communities. It is part of the Division of Program Coordination, Planning, and Strategic Initiatives within the NIH Office of the Director.
Dr. Parker comes to the NIH Office of the Director from the National Cancer Institute where she served as an Acting Branch Chief in the NCI Office of Science Planning and Assessment and Women's Health Officer for the Institute. Prior to this, she was the Special Assistant to the President's Cancer Panel. She began her career at NIH in 2001 as a Presidential Management Fellow. Dr. Parker has long been part of the discussion on the diverse health issues affecting sexual and gender minority communities and the need for initiatives to support research and training in this area. Dr. Parker is also Past-President of the Ulman Cancer Fund for Young Adults.
Dr. Parker received her Bachelor of Arts in English from Indiana University and her Master of Social Work from the University of Michigan, where she studied community organization, social policy, and evaluation. She completed her Ph.D. at the University of Maryland, School of Social Work.
Director's Voice Blog
June 19, 2019: NIH Workplace Climate and Harassment Survey Interim Report
On June 12, NIH released the interim results of the NIH Workplace Climate and Harassment Survey, which was administered earlier this year to NIH employees, contractors, fellows, and trainees. This preliminary analysis of the survey yielded some concerning results, especially when examining data on sexual and gender minorities.
According to the analysis, over the previous 12 months 28.6 percent of gay and lesbian respondents and 41.2 percent of bisexual respondents indicated having experienced some form sexual harassment, which was notably higher than the 20.2% reported among heterosexual respondents. Of the individuals who identified as either transgender, genderqueer, questioning, or other, an alarming 44.8% indicated having experienced some form of sexual harassment, which was substantially higher when compared to cis-gender respondents.
These findings echo research findings that sexual and gender minority populations are more vulnerable to experiencing prejudice, discrimination, and sexual harassment. It also highlights the work that remains at NIH in ensuring that all employees, regardless of sexual orientation and gender identity, experience a work environment free of harassment. This interim report provides a preliminary analysis, and the data need to be further analyzed to better understand the factors that contribute to harassment at the NIH and to refine policies and take additional steps based on these secondary analyses.
Moving forward, the Sexual & Gender Minority Research Office will work alongside NIH leadership in advocating for our sexual and gender minority colleagues, as well us discussing future directions to help eliminate sexual harassment across not only these communities, but the entire agency.

June 3, 2019: Celebrating Pride Month at NIH
June marks the beginning of Pride Month, which not only commemorates the Stonewall Riots of 1969, but also celebrates sexual and gender diversity across the nation. It is a time to reflect on and recognize the immense hardships and obstacles sexual and gender minority (SGM) communities have overcome, and those that they continue to face today. While we celebrate the progress made thus far, we understand that much work still needs to be done, especially when it comes to achieving optimal health outcomes within SGM communities.
The Sexual & Gender Minority Research Office (SGMRO) at the National Institutes of Health (NIH) recognizes the significant health disparities that continue to exist within SGM populations and remains committed to ensuring that these populations are included and represented in research across the NIH. In honor of Pride Month, I am proud to announce that the SGMRO will be releasing its FY 2018 Annual Report and FY 2017 Portfolio Analysis in the coming weeks, which will highlight progress made at the NIH in coordinating and promoting SGM health research and related activities.
I am also proud to say that the SGMRO is leading implementation of recommendations made by the NIH Sexual & Gender Minority Research Working Group of the Council of Councils, following a mid-course progress review for the FY 2016-FY 2020 Strategic Plan to Advance Health Research on the Health and Well-being of Sexual and Gender Minorities. In order to meet one of these recommendations, the SGMRO recently brought onboard three new staff members to assist with strategic planning, programmatic management, and communications. These individuals bring with them an array of experiences which will indubitably help the SGMRO in addressing the rest of the Working Group's recommendations, allowing the NIH to continue to expand efforts across the agency.
Here at the SGMRO, and the NIH, we remain deeply committed to the principles of equity, diversity, and inclusion in our research and our workplace. We understand that in order to best embody our agency's mission of turning discovery into health, we must continue to be inclusive of all communities in our research and all related activities, regardless of sex, sexual orientation, and gender identity. It is my hope that during Pride month, all of us take a moment to celebrate the broad diversity of SGM communities and recognize the work that remains in understanding and reducing health disparities within these communities.
From the SGMRO to you, Happy Pride month!
This page last reviewed on June 20, 2019